Learning Commons
What is a Learning Commons?
A Learning Commons is a library embracing 21st Century Skills. It's a physical and virtual space that allows students to be engaged and deepen their learning by critically thinking, problem-solving, collaborating, innovating and communicating. The goal is to broaden student learning beyond the classroom and community. For more information, visit the Alberta Education website.
Librarians
Library Catalogue (Destiny Discover)
How to access: 
Select 'Alberta' under 'Location.' 
Enter the school name.
Click the 'Red Deer Google' box to sign in with your Google account.
What's Offered
Services
Resource (books, calculators, chromebooks, etc.) checkouts
Research tutorials 
Writing and citation help 
Reader's advisory and book lists 
3D printing and design help 
Design software help 
Colouring table 
Programs & Clubs
Technology
3D printer
Chromebooks
Design Centre 
Desktop computers 
TV screens for collaboration
Genrefication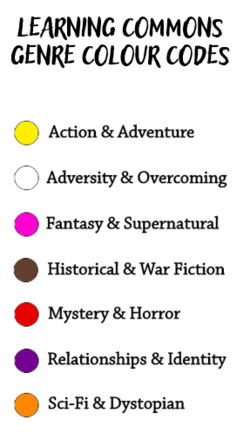 Our fiction books are now organized on the shelves by their genre:
Action & Adventure
Espionage, sports, superheroes, adventures around the world, and more. 
Adversity & Overcoming 
Mental and physical health, grief, trauma, death, social and political topics (such as racism, sexism, immigration, etc.), and more. 
Fantasy & Supernatural
High and low fantasy and stories about supernatural creatures such as werewolves, vampires, ghosts, etc.
Historical & War Fiction 
 History stories, classics, stories about worlds all over the world, and more. 
Mystery & Horror
Crime, detectives, the unknown, monsters, and more. 
Relationships & Identity
Romantic relationships, friendships, interpersonal relationships, and discovering one's self. 
Sci-Fi & Dystopian
Space, advanced technology, dystopian and post-apocalypse.