What is a Learning Commons?
A Learning Commons is more than a library. It's a physical and virtual space that allows students to be engaged and deepen their learning by critically thinking, problem-solving, collaborating, innovating and communicating. The goal is to broaden student learning beyond the classroom and community. For more information, visit the Alberta Education website. 
Librarians
Library Portal (Destiny Discover)
How to access: 
Select 'Alberta' under 'Location.' 
Enter the school name.
Click the 'Red Deer Google' box to sign in with your Google account.
Genrefication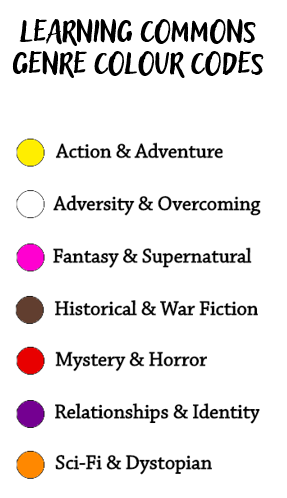 GENREFICATION is complete in the Learning Commons. What does this mean? Our fiction books are now organized on the shelves by their GENRE! Each genre has its designated colour and can be seen in the legend on the right.
What the genres include: 
ACTION & ADVENTURE 
Espionage, sports, superheroes, adventures around the world, and more. 
ADVERSITY & OVERCOMING 
Mental and physical health, grief, trauma, death, social and political topics (such as racism, sexism, immigration, etc.), and more. 
FANTASY & SUPERNATURAL 
High and low fantasy and stories about supernatural creatures such as werewolves, vampires, ghosts, etc.
HISTORICAL & WAR FICTION
 History stories, classics, stories about worlds all over the world, and more. 
MYSTERY & HORROR 
Crime, detectives, the unknown, monsters, and more. 
RELATIONSHIPS & IDENTITY 
Romantic relationships, friendships, interpersonal relationships, and discovering one's self. 
SCI-FI & DYSTOPIAN 
Space, advanced technology, dystopian and post-apocalypse. 
The Online Reference Centre (ORC) offers a diverse collection of reference and information sources. The ORC is available for Kindergarten - Grade 12 students, teachers and parents through a Grant-in-Aid to The Alberta Library from Alberta Education. The ORC is an excellent resource for research papers and research-based projects. Click here to access the ORC. 
Need help with research project citations?
What is a citation? A citation is a way to give credit or show you have retrieved your information from another place. Citations are used in the text of an essay and at the end of an essay on a separate citation page. Citations are formed by citation styles, which dictates the information and how the information is ordered in the citation, as well as punctuation and other formatting.
Why do we cite? We cite to avoid plagiarism. Plagiarism is when we claim someone else's information as our own and don't give credit. 
Check out this Citation Libguide for all your citation needs! If you require assistance, please drop in or book an appointment with Miss Stevens. 
3D Printing
The Learning Commons encourages creativity and design. Check out our 3D PRINTER. For $0.15/g, you can print any 3D design of your creation. Ask the Learning Commons staff for more details. 
Book Recommendation of the Week
The Children of Blood and Bone
By Tomi Adeyemi 

Zélie Adebola remembers when the soil of Orïsha hummed with magic. Burners ignited flames, Tiders beckoned waves, and Zélie's Reaper mother summoned forth souls.

But everything changed the night magic disappeared. Under the orders of a ruthless king, maji were killed, leaving Zélie without a mother and her people without hope.

Now Zélie has one chance to bring back magic and strike against the monarchy. With the help of a rogue princess, Zélie must outwit and outrun the crown prince, who is hell-bent on eradicating magic for good.

Danger lurks in Orïsha, where snow leoponaires prowl and vengeful spirits wait in the waters. Yet the greatest danger may be Zélie herself as she struggles to control her powers and her growing feelings for an enemy. -- Goodreads
Where to find this book in the LC: Fiction - Fantasy & Supernatural - F THO