Hudl Link
View upcoming game schedule and live stream sporting events at the link below: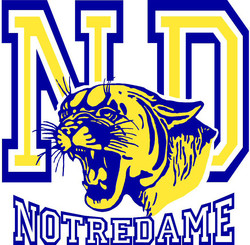 Cougar Athletics have a long and proud history.
To participate in athletic activities students must maintain a satisfactory level of academic achievement. It is also expected that student's attendance and behaviour are positive. Athletes must be enrolled in a minimum of 800 minutes of instruction per week each semester of competition. Opportunities exist for both girls and boys to be involved in the following teams:
Cross Country Running
Golf
Football
Junior Volleyball
Senior Volleyball
Junior Basketball
Senior Basketball
Curling
Badminton
Rugby
Soccer
Tennis
Track and Field
Handball
Cougar Pride
Athletes participating on École Secondaire Notre Dame High School teams are expected to display a high degree of conduct and citizenship within the school and on school-sponsored trips. Sportsmanship and self-discipline are expected of all athletes and coaches.
UNDER ARMOUR
We are proud to announce that UNDER ARMOUR is the official clothing sponsor for the school. Under Armour clothing can be purchased at the Cougars Den at noon and after school.