Exams
myPass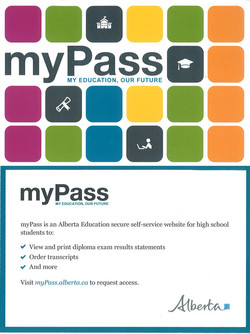 myPass is an Alberta Education secure self-service website for high school students to:
view and print diploma exam results statements
order transcripts
and more!
Visit myPass.alberta.ca to request access.
Exams
MARKING, EVALUATION, REPORT CARDS, PARENT-TEACHER-STUDENT CONFERENCES
At the beginning of each course, the teacher will outline the course content, objectives and student assessment procedures. Marks are available for viewing at any time throughout the school year using PowerSchool. In addition to this, parent-teacher-student conferences are held each semester. Teachers may forward interim reports to parents at intervals, especially if the student appears not to be achieving his/her potential. Staff encourages students and parents to give early attention to problems rather than waiting until report card grades are issued. All parents and students will be given a password early in the school year in order to monitor academic progress via the internet on a continual basis.
EXEMPTIONS FROM EXAMS
To qualify for an academic exemption you must have an average of 85% or higher, can choose only 1 subject per term, and only once per curricular discipline (A student may only select an exemption in a particular curriculum area once). 
i. For example, a student who elects to exempt Science 10 will not be allowed to exempt any other science course for the remainder of their high school career at École Secondaire Notre Dame High School.
Any students who qualify for an exemption must register and fill out the form with the teacher of the course to be exempt. All exemption forms are to be collected & signed by the teacher and returned by the due date assigned by the school.
To qualify for an exemption in RS classes you must have two or less absences, maintain a grade of 80% or greater, have completed all required tests, assignments and completed all approved volunteer hours.