Hockey Academy
Train Like a Pro with the our Hockey Academy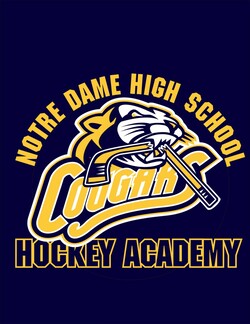 Are You:
Planning on playing Junior Hockey or beyond?
Committed to being your absolute best in school and in hockey?
Committed to making a positive contribution to your community?
Hoping to get a college scholarship, and want help to maximize your athletic potential?
Looking to explore careers related to your passion for the game?
A team player with the ability to work well with others?
Coachable?
Persistent?
Driven to succeed? 
Get that competitive edge and gain speed, power, agility, strength, and stamina by training like a pro with the Notre Dame Hockey Academy (NDHA).
Hockey Academy Registration Information 2022-2023
NDHA Program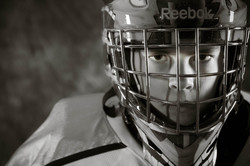 The NDHA's mission is to support student learning, ice hockey skills fitness training, enhancing sports performance, motivation, sports etiquette, and sports psychology.
Through a combination of theory and practical exposure to hockey, student/athletes enrolled in the program will learn about the sport and personal development.  
Our program is developed for hockey athletes, Grade 10-12, looking to bring their game and their training to a new level. This exciting period is the beginning of a journey that will forever have a direct effect on a student-athletes overall experience and success.
On average, students are on the ice three times a week developing their hockey skills. Under the guidance of professional experienced coach and a goal-tending instructor, they work on skating techniques, puck control, shooting, defensive play, and creativity.  
Our program:
is based on scientifically proven methods effective in creating greater athleticism 
will increase your speed, power, flexibility, nutritional knowledge, and overall fitness 
will educate you on how to train effectively, minimize injury and maximize your fitness
will expose you to possible careers associated with your sport passion  
Advantages of our Academy:
Opportunity to increase their skills in a Catholic educational environment
More ice time and high-level instruction
An opportunity to explore fitness and sport-related careers
Position specific training for forwards, defense and goalies
Includes Physical  Education courses designed to meet the elite needs of our clientele
Students will benefit from the strong community developed as a member of the Academy
Flexible timetable and ongoing support which will make your high school years an accommodating experience 
Scholarships are available to students based on financial need, please contact Mr. Lodge to inquire about scholarships. 
Hockey Academy Instructor
The Lead Instructor for the Hockey Academy is Mr. Erik Lodge. Erik comes with an outstanding hockey Resume. He has played professionally in both Europe and North America. Erik has competed and won at every level including a Royal Bank Cup, Allan Cup, and Queen's Cup. Erik is a member of the mentorship team for Red Deer Minor Hockey and has coached at the Midget AAA level
For more information on the Hockey Academy or to register Contact Mr. Erik Lodge at 403-342-4800 ext 263216 or erik.lodge@rdcrs.ca