International Travel Program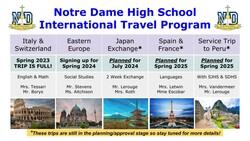 There trips are still in the planning/approval stage so stay tuned for more details!
Switzerland and Italy Spring 2023
Do you want to go on an 11 day adventure? Check out this amazing opportunity to see the wonders of the Swiss Alps, and a country laced with history and boasting with the world's finest art and architecture, and gelato! Lots and lots of gelato!! Then this is the trip for you! Don't delay, reserve your spot now! See Ms.Tessari or Mr. Borys for more details.
Japan Exchange
Japan Exchange Trip will be planned for 2024. Please see Mr. Lerouge if you have any questions.