Back to staff directory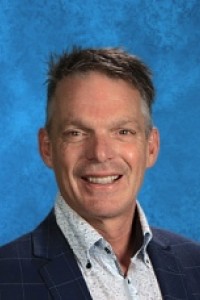 Teacher: French Language Arts 10 et 20, CALM, Carriere et Vie
Mr. Piche is a French Immersion teacher who specializes in the French language as well as Career Life Management.
He was born and raised in Trois-Rivieres QC and graduated from the University of Alberta at the Campus St-Jean. He taught at Red Deer College for 10 years, University of Alberta for 2 years and St. Gabriel Online. He is proud to be back at Notre Dame. He loves travelling all over the world and is also a real estate investor.
Mr. Piche is a very passionate teacher. He is outgoing and loves interacting with students. Respect and connection are his two main platforms as a teacher. In his opinion, a successful classroom consists of eager, enthusiastic students ready to participate in discussion and work together with their fellow classmates to achieve a common goal. This classroom consists of curriculum that is not only challenging, but also rewarding. French language as well as CALM provide him the opportunity to achieve his goals.